The use of Air as a path to better health and quality of life…
Activated Oxygen Therapy
BioLife Solutions Ltd has been involved in Activated Oxygen Therapy since 2003.  Due to the popularity of Activated Oxygen Therapy there are now 1000's of devices being used in over 60 countries.
We are able to offer two different products ranges which use similar technology in slightly differing ways:
Airnergy Spirovital Therapy
Airnergy is a combination of the two words "air" and "energy" and describes a well-developed natural remedy.  Airnergy is a portable, compact machine for use in the home and clinic that creates 'energised air'. This feeds every cell in your body with oxygen that it can absorb and use more efficiently. Further information is available from German manufacturer Airnergy AG.
The Airnergy range is made up of 7 different models. Choose one of three models from the Classic Range, the aestheticall
y pleasing "Avant Garde" or handy "Travel Plus" from the Design Range. Finally the "Stream" and "Stream Headset" from the Stream range.  More information…
AIRVI OET (Oxygen-Energy-Therapy)
The AIRVI OET system is an innovative inhalation therapy that naturally increases oxygen utilisation in the cells without the need to supply additional oxygen.  The devices contain a special reaction chamber. Here oxygen is activated into a higher energy state by means of a catalyst under the influence of light. Further information is available at www.airvi.info
The two devices in the range, AIRVI OET3 and AIRVI OET5 differ in the number of activation units (chambers) they have and therefore also

in their effectiveness.
New in 2018 is the AIRVI IQ therapy system.   More information…
Air Purification
Purifying indoor air has become a priority.  Purer air keeps viruses from spreading and reduces absenteeism.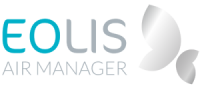 It is a fact that we spend 90% of our time indoors.  It is important to know that the air we breathe indoors is 8 times more polluted than outdoor air on average.
This indoor pollution causes various types of discomfort such as asthma, respiratory allergies, headaches, fatigue etc.
We are proud to be UK agents for the two following product ranges:

From French Company Natéo Santé, we offer the highly innovative Eolis Air Manager and from German company BestAir International GmbH we supply the Bestair AirJet 500.
Contact Us at BioLife Solutions Ltd for your free information pack.